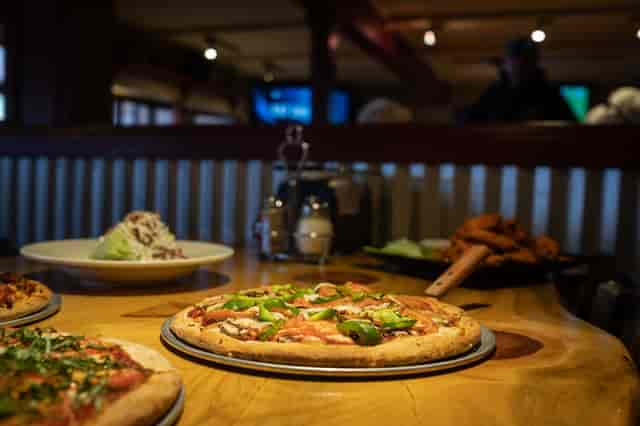 Testimonials
Pleasantly surprised, will definitely come back
On our last night in Mammoth, we decided pizza was as in order. However, when you have mixed dietary needs as a group, you never know what you are going to get. But we were all pleasantly surprised :) The GF crust was delicious! The normal pizza was delicious. The wings and wedge salad were on point. And the drinks were strong and well priced.

Date of visit: November 2019
beth_anziano
Seattle, Washington

Tripadvisor.com
Very tasty food
We went there twice during our visit to Mammoth. The first night we ordered pizza for takeout. We were told it would be ready for us in 30 minutes. We showed up and it was ready to go. The pizza was delicious. The crust was perfect and it was loaded with toppings.
We had such a good experience with the pizza, we stopped back in the next day for lunch after hiking to Devils Postpile and Rainbow Falls. We had sandwiches this time and they were very tasty. We had great service both times and will go back the next time in town.

Date of visit: October 2019
Paisano76
Chowchilla, California

Tripadvisor.com
John's Pizza Works - WINNER!
We were recently in Mammoth and wanted some pizza. We decided to go to another place in town to try it. It is very highly rated on TripAdvisor. The pizza was okay along with the beer selection. We moved on to the June Lake loop and wanted pizza again. We decided to drive back to Mammoth and go to John's Pizza Works, where we had been on another trip.

We sure are glad we did! The salad, pizza and beer we ordered were fantastic. The antipasto salad was fresh with lots of wonderful ingredients. The vegetarian pizza was covered with fresh vegetable. The crust was outstanding as was the sauce they use. The beer selection is extensive. Something for everyone.

Also, the service we received was outstanding. I can't say enough about Emily. She was very attentive without hovering, answered all of our questions and spent time asking us about our vacation.

We have been to John's Pizza works once before and we thoroughly enjoyed the food however, it was so crowded that we weren't thrilled with the service. We did a TripAdvisor review regarding the experience. John actually took the time to answer our review and wanted us to return so they could WOW us. Because of his comments, we gave it another try and we sure are happy we did! John's Pizza Works is the only pizza place we will go to while in the area.

Date of visit: September 2019
oakprk
Oak Park, California

Tripadvisor.com
Absolutely Delicious
Traveling home from Las Vegas Nevada to home in Central Nevada and decided to come up 395 for a change. Stopped in Mammoth for lunch, saw Johns and we decided to try the pizza. I am so glad we did. We both had the 9 " build your own pizza. I had mine with pepperoni and black olive, hold the sauce. The pizza they brought me was perfection. Wonderful crust, and great toppings. I could not have been more pleased and surprised for such great pizza in a ski town. We will be back. If you are a couple and no children with you, sit on the bar side. They come to you, take your order and deliver it to you. Much quieter. You'll thank me.

Date of visit: May 2019
942jimmier
Yerington, Nevada

Tripadvisor.com
Some of the best pizza I've had on vacation
We randomly stumbled onto John's Pizza Works after a long day of hiking in Little Lakes Valley. We each ordered our own personal pizza and split an order of cheese bread. I've eaten at a lot of pizza places around the western US, but this one has to be at/near the top. The food was excellent, and the service was great as well.

Date of visit: July 2018
Jeremiah Z
Hudson, Wisconsin

Tripadvisor.com
We ordered pizza and wings, and they were delicious!
The pizza was fresh-tasting, and the crust was great. The wing sauce was a good combo of sweet and spicy. We wish we had a spot like this back home!

Tiffany S.
Riverside, CA
Date of visit: November 2019

Yelp.com
Just wanted to give a huge shout out to Hector and the staff for a job will done
I brought a group of 60 plus in after a football game with Mammoth high last night. It was a Friday night and place was packed but Hector did an amazing job getting our food out to us. And now onto the food. The wings were outstanding and the pizzas were absolutely delicious. I highly recommend this restaurant for a great end of day experience, whether it be after skiing or football or whatever brings you up to this amazingly beautiful part of California.

John R.
Canoga Park, CA
October 2019

Yelp.com
A must-go-to place when in mammoth with the family!
We go every year and it's always good!!! Good salad, great pizza, and awesome wings! Love the games for the kids too

Nic B.
Carlsbad, CA
September 2019

Yelp.com
Not sure if it was returning from a three-day backpack trip or was it the great food
Ordered the custom pizza with pesto, mushrooms, onions, pepperoni, and cheese. The pizza was worth the wait and every bite melted in our mouth! A large pizza is huge so make sure that's the right size for your eaters. The Caesar Salad was one of the best and was topped with shredded Parmesan cheese and tasty dressing. It was so tasty and satisfying!!! The wings was also fabulous and the medium spiciness was hot!!
Overall, it was the best pizza and salad I ever had!!! We'll be back and will tell others.

Sabrina s.
San Diego, CA
August 2019

Yelp.com
Great pizza! Some of the best I ever had
The crust reminds me of new york style, I prefer thinner crust especially new york style pizza. The ingredients top-notch, lots of cheese almost too much. I ordered a large supreme, large pep, large salad, kids spaghetti, and beer-battered onion rings. Onion rings were super crispy with great beer flavor. I ironically enjoyed the fact I have to pick up my order at the counter when dinning in because with kids it was better to be able to serve yourself (drinks, silverware, condiments) than rely on waiter for service. I have tried all other pizza places in mammoth and this is by far the best and you know this by the reviews and how busy the place is.

Paul Z.
El Centro, CA
June 2019

Yelp.com
They did not disappoint
We arrived at Mammoth pretty late and more restaurants close at 9 pm. So the concierge at the hotel suggested we check out this place which was right on Main Street. You order everything at the counter and they call out your number when your food is ready. The staff was friendly. Lively ambiance. Big tv screens everywhere, the NBA finale was on so it was a pretty exciting night. Too bad the Warriors lost, boo
We ordered the:
Cilantro Lime Salad with chicken: Fresh greens, cucumbers, cherry tomatoes, and red onions tossed with cilantro lime dressing

Bbq Chicken Pizza: bbq sauce, chicken, smoked-Gouda, mozzarella, fresh cilantro & red onion

Creamy Cajun Shrimp: Seared shrimp served with creamy fettuccine with Cajun spices, bell peppers, onions, mushrooms, and garlic

Cheese pizza for the kids

And a cookies and cream milkshake.

Seriously everything was so good. Loved the food and priced well considering the portions and the taste. Best pizza joint in Mammoth

Tina M.
Daly City, CA
June 2019

Yelp.com
This place is awesome!
Friendly staff that is very responsive with a friendly attitude. The food is good too! Good Music always is a nice cherry on top. A few TVs tuned to sports.

Erick 0
Local Guide 
October 2019

Google review
Came back again!
Was staying in June lake and came here on a Friday night, hiked all day Saturday and came back AGAIN on Saturday night. Solid beer list, excellent pizza, even better calzones and, from the smells, seems like great wings.

Andrew Devine
November 2019

Google review
Service was friendly and quick
Staff was super helpful for our large party of +50 high schoolers, staff, and parents. Restaurant clean. Pizza and wings were tasty.

Dan Black
November 2019

Google review
10/10 spot!
Open late, good food, Lauryn was super friendly, super great! We drove through on a road trip from Washington and she gave us recommendations to check out on our trip. 10/10 spot!

Josh Thatcher
August 2019

Google review